General Motors (GM) Pension Plan Resource Site
Welcome to the ultimate resource online for information about the General Motors Pension Plan. This includes the original GM Benefits and Services pension along with the newly migrated Prudential program for Salaried "White Collar Employees." We cover the most basic information on this site about the pension program on this along with important news and updates. You will also find data about GM retirement services and 401K information, along with links to additional pension resources and general material about the General Motors Company.
Continue reading on the home page to get the most recent information about the GM Pension Plan or use the quick links section to the right to navigate directly to the information you desire. For easier use, you can check out our Service Center page by clicking the link above for a high level and pictorial view of all the content covered on this website.
Technical Requirements
Please note that this site is best viewed on desktop devices with one of the following browsers:
Internet Explorer
Mozilla Firefox
Google Chrome
Apple Safari
While not specifically designed for mobile or tablet viewing, this site can be accessed from those devices. It is recommended that your device have the latest version of Adobe Flashplayer and Java however is not required to view the content presented here. If you have any questions about how to use this site please send us a message on our Contact page.
Thank you for visiting GeneralMotorsPension.com!
About General Motors Company LLC
GM was founded in 1908 as the General Motors Corporation. It was originally a holding company for Buick owned by William C. Durant. Durant was an automobile visionary and was responsible in part for the growth of General Motors in the United States. This includes the expansion and creation of several brand marquees including Cadillac, Chevrolet and GMC underneath the General Motors umbrella. Learn More...
Continue reading below for recent news and updates about the General Motors Pension Plan. This includes highly covered pension buyout and negotiations between the United Auto Workers (UAW).
General Motors Financial & Pension Troubles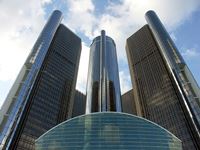 General Motors has made the financial news many times since it was hit hard during the financial crisis of 2008. It was at this time when GM took a bailout amount of $49.5 billion from the United States Government in exchange for 60% of stock ownership. This however was not enough and GM was forced to file Chapter 11 Bankruptcy. GM battled back and raised $20.1 billion for an IPO in November of 2010 and has continued to increase sales since then.
While GM may have reorganized and restructured much of its organization to accomplish this turnaround, one element that has remained constant are the enormous pension liabilities that were around $100 Billion before the UAW buyout which reduced this obligation to $71B at the end of 2011. The problem with this figure though is that it exceeds General Motors market value meaning that more negotiations and/or buyouts for the pension fund are likely to occur in the future. This however will not happen untill the next labor talks in 2015 according to GM's vice chairman.
Website Disclaimer: GeneralMotorsPension.com
Take notice that GeneralMotorsPension.com is a content resource website designed to provide information along with educate past, current and prospective General Motors employees about the pension plan. This website is not affiliated or endorsed by General Motors Company LLC, Prudential Financial Inc or any other company, brand or trademark listed on these pages.
Trademarks, images and copyrighted materials are presented here for educational purposes in accordance with the Fair Use clause of US Copyright Law. For more information please view our Copyright page below. Also, feel free to contact us with any questions concerning GeneralMotorsPension.com - Thank You!