GM History & Company Information
About General Motors Company LLC
GM was founded in 1908 as the General Motors Corporation. It was originally a holding company for Buick owned by William C. Durant. Durant was an automobile visionary and was responsible in part for the growth of General Motors in the United States. This includes the expansion and creation of several brand marquees including Cadillac, Chevrolet and GMC underneath the General Motors umbrella.
Brief Company History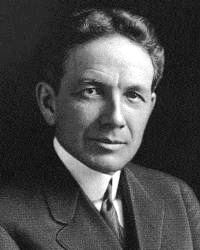 Durant's co-founder and the largest single stockholder in GM was Charles Stewart Mott who like Durant had previously owned and operated a "horse-drawn" carriage company. On top of Buick, GM quickly added Oldsmobile to the lineup and Cadillac and Pontiac among other brands in 1909.
Durant was pushed out of GM in 1910 by bankers who controlled a large portion of General Motors stock. Two significant factors led to this exposal.
The large amount of debt taken on during acquisition of major auto brands
Decrease in new vehicle sales
It is well documented that this did not sit well with Durant who on November, 3rd 1911 founded the Chevrolet Motor Car Company with race car driver Louis Chevrolet. This was backed by investment partners William Little who also produced the Little automobile and Dr. Edwin Campbell, Durant's son-in-law.
Over the next seven years Durant led Chevrolet to increased automobiles sales throughout the United States and waged a cinematic proxy war against General Motors. Durant was able to reacquire GM through a reverse merger in 1918 however was quickly ousted again in 1919 after new vehicles sales collapsed for the second time during Durant's tenure.
The next GM president was Alfred Sloan who made Chevrolet the key brand marquee in the GM lineup and competed directly with Ford on a global scale. This led to General Motors unprecedented dominance in global sales for 77 consecutive years from 1931 to 2007 all the way up to the financial crash of 2008.
Government Bailout and Bankruptcy
General Motors was hit hard during the financial crisis of 2008. It was at this time when GM took a bailout amount of $49.5 billion from the United States Government in exchange for 60% of stock ownership. This however was not enough and GM was forced to file Chapter 11 Bankruptcy. Major GM brands including Hummer, Saab, Pontiac and Saturn were discontinued during this restructuring.
New IPO and Brand Lineup
GM battled back and raised $20.1 billion for an IPO in November of 2010 and has continued to increase sales since then. It is among the top automobiles manufactures in the world and employees more than 200,000 people worldwide. The current marquee lineup consists of the following GM brands.
Chevrolet: (Global, except Australia, New Zealand)
Buick: (North America, China, Israel)
Cadillac: (North America, Europe, Asia, Middle East)
GMC: (North America, Middle East)
Baojun: (China)
Jiefang: (China)
Wuling: (China)
Holden: (Australia, New Zealand)
Opel: (Africa, Asia, Europe, South America)
Vauxhall: (United Kingdom)
Future Challenges
While General Motors has had once of the best post-bankruptcy rebound performances of any major US corporation in history; many analysts fear more troubles in the future for GM. One of the major concerns is that a large portion of current GM sales are being attributed to buyers who are relying on financing through GM for vehicles they cannot afford.
Another problem often pointed out is the involvement of the US Government and its policies in GM management that may or may not be good for competitive advantage on a global scale. Lastly a huge financial liability for GM and the topic of this site is the large outstanding Pension fund and other benefits owed to blue collar GM retirees.